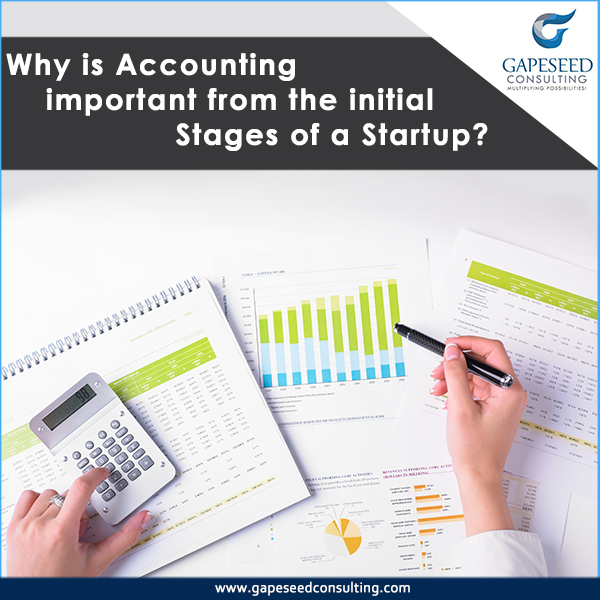 Significance of Accounting for Startups
Accounting must be given prime importance in any business entity as it is most required, especially for controlling and for providing financial reports at the end of the year. Accounting will help a Startup to determine its productivity and its profit from the initial stages of the company. This provides entrepreneurs a method for maintaining accounting information. The accountant hired by the company will keep track of the money spent for business use as well as for personal use, this will help in strategizing on how the money can be saved. In the initial stages of a Startup, the company must hire consultants or interim CFOs to maintain simple accounts rather than spending more on in-house professional resource.
Benefits of Accounting for Startups in Initial Stage
Forecasting Financial Estimates
Every Startup needs to provide information regarding its financial estimates to banks, investors or lenders to obtain funds in return from them. Accounting helps the business to make a business plan which includes estimated monthly expenditure, economic forecast, projected rate of growth of the Startup. This information is really important for a Startup to lure more and more investors to invest in their idea. The investors also ensure that the entrepreneur has a reliable projection of its company's financial expectations.
Determine Profitability
Accounting helps an entrepreneur to determine its profitability in the future. It helps in monitoring the progress of the company and also to make necessary amendments where necessary. Through accounting, entrepreneurs will get to know where they need to use their assets to generate profit. An entrepreneur also needs to provide financial information to its investors to ensure them that they will be paid in a timely manner. A monthly statement such as a balance sheet and an income statement shows how if a business is blooming or not, these statements helps in determining a business general profitability.
Budget Expenses
Accounting helps an entrepreneur in setting up a Budget for expenditure on various aspects affecting a Startup. Accounting helps in maintaining records of the cashflow in the business, capital is used in hiring of employees, advertising, purchasing of inventory, petty items. Budget helps an entrepreneur is reducing expenditure on not so essential items and by saving the capital for future purposes.
Payroll Accounting
Accounting for startups help an entrepreneur to record its employees' compensation such as salaries, bonuses, commissions and any other means earned by an employee. It also maintains employees' portion of Health insurance premium, Social security taxes, paid holidays. This creates a database for the company consisting of all of its employees. Entrepreneurs must consult accounting professionals during the incorporation of its business. This is a must for an entrepreneur as outsourcing will help a company to grow much faster with the help of a trained professional. Outsourcing helps in many ways such as:
Tax Specialization
Taxation is a main aspect where a Startup may face some difficulties beyond the areas of fund raising and finance. This is where trained professionals like Chartered Accountants play a crucial role in the growth of the Startup. A trained professional who knows the tax laws whether it may be direct tax, indirect tax or any other tax involved will smoothen the working of the business. Well managed and transparent taxation is one of the most required aspect in Accounting for Startups.
Focus on Business
An accountant helps an entrepreneur by letting them focus on their product rather than worrying about the finance. The entrepreneur can create partnerships, create relationships, market its product with the help of an accountant. It will provide valuable information to the business to make it grow and earn profits. An accountant will also help in covering the cost as well as reducing the expenses incurred by the company.
Secretarial Duties
A professional accountant can also perform duties of a company secretary as they are specialist in company law. They also see to it that the company is complying and adhering to the laws laid by the Company Act, 2013. Start-ups strictly need to follow these rules from the start as it may result in the dissolution of the company.
Valuable Business Partner
Outsourcing accounting gives a huge importance to start-ups as these outsourcing firms have wide range of expertise working under them. This support from such firms will be very valuable for the Startup as it has a lot more experience when it comes to raising funds, financial planning, financial reporting. It is better to get financial assistance from trained professionals at the early stages of a Startup as it makes the business develop and grow faster. Many entrepreneurs lack accounting skills and tend to make wrong decisions regarding accounting which acts as a negative aspect in accounting for startups.
For more information on Importance of Accounting  for Startups, feel free to reach us on, info@gapeseedconsulting.com or call +91-9599444639/+91-9599444630
More Newsletter
Activities to Be Performed after Incorporation Of Company
Outsource Your Bookkeeping and Accounting Services
Tax Accounting Services for start-ups and small businesses
Union Budget 2016-17, Keypoints for Startups
Outsourced Accounting Services
Hire Gapeseed Consulting for M.I.C.E Services?
PROCEDURES and DOCUMENTATION FOR STARTUPS
Basics For Incorporating A Startup