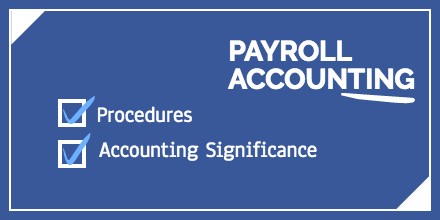 What is Payroll Accounting?
Payroll accounting is a method used to calculate aggregate expenditure on wages and salaries of employees incurred by a business in an accounting period. This method of accounting for payroll includes the company's recording of its employees' gross wages, salaries, bonuses, commissions and other benefits as well. Payroll accounting distinguishes between employee taxes which are deducted from employees pay and employer taxes which are paid by employers. This accounting also keeps records of employer's fringe benefits such as health insurance, vacations, paid holidays, workers compensation insurance as well as pension and savings. Payroll not only is responsible for employee's salary compensation but also plays a vital role in protecting the company's reputation.
Payroll Accounting Procedure
Payroll accounting helps businesses to ensure that their employees' receive their pay on time. Here is the procedure on how this is carried out by a business:
TIME REPORTING
There are many tasks involved in payroll accounting but the first task is to collect necessary data regarding the time worked by an employee on a daily, weekly and monthly basis. Companies must issue time cards to every individual to record exact working hours of that employee. This helps the accountant to measure the pay of the employee accurately. The task of time reporting also helps a business to curb payroll tax burdens and workers compensation premiums.
PAY COMPUTATION
As payroll accounting is done to calculate the compensation owned to each employee. By knowing the hours worked by an employee and multiplying it with the pay rate, it becomes much easier to calculate the pay of that particular employee. Also review your pay policies and procedure to look for inefficient workflow patter. Changes regarding salary structure and pay grade will be initiated in case of promotion of a worker.
TAX COMPUTATION
Employees must submit payroll tax as well as income tax to its employer so that they fill and submit it to the tax authorities. The accountants hired by a business calculates the exact amount of income tax owned by every employee after the gross compensation owned. Then the total tax collected will be given to the Internal Revenue Service so that there is no tax burden on the business.
OTHER BENEFITS
Many businesses provide their employees with certain benefits such as paid vacations, pensions and many more such things. These things make it more difficult for the company accountant to calculate the payroll amount as most of them get paid for holidays also. Any other contributions offered by the employer must also be done in payroll accounting.
PAY DISTRIBUTION
After every task has been completed, that is, working hours of every employee has been recorded with their income and payroll tax been given to the tax authorities. The net pay is given to every worker in the form of cheques, direct deposit into their accounts or through cash.
IMPORTANCE OF PAYROLL ACCOUNTING
MORALE OF EMPLOYEES
Payroll accounting impacts the morale of the employee as they need to feel assured that they will get paid on a timely basis. When the pay is on time then the employee will be motivated to work more efficiently to get bonuses with their pay but if the pay is late then the employee will feel that the company is not financially stable. This will result in bad performance of employees in q business, so the organisation must keep in mind the importance of its employees.
COMPANY'S REPUTATION
The business must see to it that the payroll activities followed by them are adhering to the tax policies and also complying with employment legislations. The business will uphold its reputation only when they are efficient in meeting tax obligations on time. This will attract more worker in the market to work in the business as the business will provide timely pays to them.
 RE-ALLOCATION OF RESOURCES
Payroll accounting has to be performed regularly to ensure more precise payroll calculations. Payroll can be very time consuming, so it needs more resources to work with and regular activities help the business to know the required resources. As payroll is now automated, it allows organisations to save on costs in the long run. Furthermore, it frees up valuable resources for the organisation to focus on other business activities.
It is advised for any new business that they should take help from a financial consultant as there are many laws regarding payroll accounting. This will help them to stay out of trouble and also to devote their time on something else. An efficient payroll department reflects the organisation's way of working and how they respect their workforce.
Checkout our Payroll Management Services to know more about the Payroll Management. You can also connect to us through mail or form incase of further queries.
For more information on Payroll Accounting, feel free to reach us on, info@gapeseedconsulting.com or call +91-9599444639/+91-9599444630
Also read this
Benefits for HR and Payroll Software
8 TIPS TO RETAIN THE BEST OF YOUR EMPLOYEES
One Person Company and its Incorporation