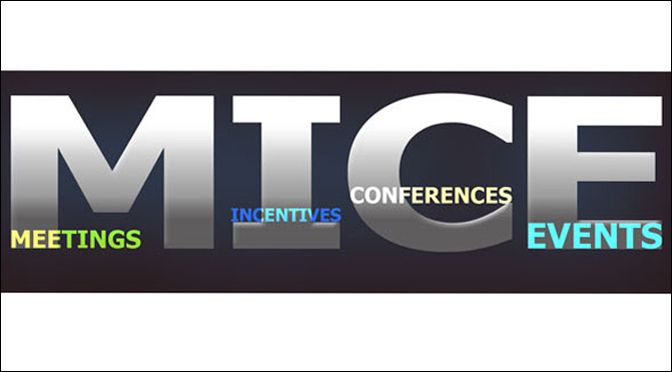 Corporate events or workshops or conferences bring together your employees and clients together and for the overall growth of any organization such meets are extremely important. But organizing such events or any of M.I.C.E services at times not only becomes hectic or chaotic, if not implemented well it can end up being the most unorganized one! But when referring to business profits, one of the really important things is cost cutting. With this in mind, it is obvious that any organization will try to organize a business event alone, without the help of any professional event management company. This makes sense, but not completely. You may save on those extra services but this almost always brings in a lower result than what the professional can offer. And that's where Gapeseed comes for your rescue. We do events not just in Delhi NCR but across the country.
Whether you plan to stage a small workshop or a large scale conference, whether you host an event in India or in foreign countries, we can produce and manage the complete event for you – right from the initial concept planning, venue selection, hospitality to post event analysis. And the commercials will be according to your budget. Our approach is very simple – it is customized.
We are experts. We deliver end-to-end services.
From the smallest group meeting to the largest live event, our team of experts can plan and deliver flawless logistics, organize unique event concepts, design memorable content and deliver high impact production environment. In short we provide end-to-end services competently. A special team of professionals are assigned to take up the task, so you save on time, cost and conversation. We believe that detailed and overall project planning is vital to the success of any event, as it ensures that no details are missed and the time spent on the event is 100% productive and therefore value for money.
The experience which our team has earned over years while working with German corridors or with the Japanese expats – gives us the edge over others in delivering just what you seek. So if you are looking for MICE Services in Delhi or rest of India, we are just a call away.
Better Connections. Better Planning.
This is a huge reason why you should seriously consider Gapeseed. The connections we guarantee ensure that your event will be of a higher quality. And not only our professionals will help you organize the most planned event, they will ensure that you save money – which is one thing you most likely did not know. We have contracts signed with different service providers which mean we will get you better prices when compared with what you would be offered at an individual level. The connections that we have built over the years will help you take advantage of great services at minimum cost. For instance, may be you can get a diner hall with a ready decoration or with required itinerary without having to pay anything extra for it.
Promote your event. Make it a success.
Post organizing an event the next step is to promote it thoroughly. It is much more difficult than you may believe at first glance. The event can be a failure if you are not going to have people who can attend it. We know exactly what has to be done in order to guarantee success for your events due to the fact that we realize how to properly promote them. Be it following up with clients for their acknowledgment or following up with your employees for prompt suggestions or feedback. We do it all. If necessary or if it's a large scale event, we even go to that extend of promoting it through newspaper ads to online promotional channels. We then actually take care of the entire marketing campaign to promote the events.
Designing and managing bespoke events requires both creativity and expertise. Gapeseed guarantees fresh ideas, a flexible approach and services which are efficient and reliable. Our expertise means we budget efficiently, plan accurately and leave nothing to chance.
For more details on M.I.C.E Services in Delhi or rest of India, contact us here
More Newsletters
International Taxation Consultancy
Outsourced CFO Services for Startups for Winning edge
FRRO and Taxation Services for Expats in India
Liquor Import Compliance for Setting up a Business in India
Business Support Services for International Businesses