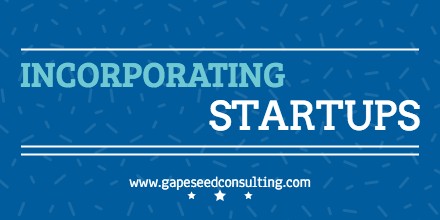 Now that you have understood the basics of CFO Services for Startups and the Payroll Services and the advantages of payroll for startups, our blog 3 in the series is all about Incorporating a startup, the options and categorization as sanctioned by the Ministry of Corporate Affairs.
To help you understand the requirements, following are the types of Incorporation as laid down by the Ministry of Corporate Affairs and other government authorities in some cases. Anyone who is interested in Incorporating a Startup can choose to launch business from the following categories:
1. One person Company
Anyone can incorporate "one person company" as a corporate body. He or she is only one entitled shareholder and Director of the company. The pre-conditions for one person company include:
Shareholder and Director Must be citizen or resident in India
Only One Director at a time
Nominee for shareholder is must
If you are planning of incorporating a startup which is home run, family run or service oriented you can probably begin with one person company and once you get established you can think of expansion.
2. Private Limited Company
A private limited company is the one with two directors and two shareholders. This is the basic requisite to incorporate private limited company. The maximum number of members in a private limited company can be 200. Company cannot invite general public to subscribe its shares or debentures. A private limited company can
Register with MCA as body corporate
Business governed by board of directors
Limited liability of members
Can not accept deposit from Public
People incorporating a startup which involves product, delivery and revolves around mass consumption or even which involves a number of stakeholders involved from the beginning should go for private limited company. This adds credibility to your idea at the launch stage itself.
3. Limited Liability Partnership (LLP)
LLP is a corporate structure that combines the flexibility of a partnership and the advantage of limited liability. Owing to flexibility in structure and operation, it would be useful for small and medium enterprises, in general and for the enterprises in service sector professionals.
It is body corporate and legal entity separate from its partners
Limited liability of partner.
Minimum two partners
On LLP, the Partnership Act 1932 not applicable.
There are pros and cons attached but entrepreneurs who are in the process of incorporating a startup which involves further licensing and compliances with other government authorities opt for LLPs. This is mostly a preferred option for startups entering the BFSI sector.
How we can help as an Agency for Setting Up a Business in India
Gapeseed Consulting Pvt Ltd is a financial services company with a team of experts coming from the Accounting and Legal backgrounds. Startups usually have reservations with the set of services, registration protocols etc and they find it complex to execute. We are here to simplify business functions and thereby multiplying the possibilities.
Our set of services include, Incorporation, Accounting, Tax and Company Law compliance, consulting, drafting agreements, Payroll and CFO Services.
Financial Services for Startups
The challenge to startups is not just to manage and grow business, it is also about managing in the right way. Entrepreneurs need advice on regular basis so that all compliances are met right from the day of incorporation of business.
We at Gapeseed Consulting provide virtual CFO Services to support your business. We understand that Startups usually do not hire a senior Chartered Accountant or Finance Professional at initial stage because it is very difficult situation for entrepreneur and Senior Financial Professional to do full time job in Startup. Therefore Virtual CFO Services is win-win situation for both.
Virtual CFO or Interim CFO Services in Delhi from Gapeseed Consulting can offer the follow-ing solutions:
Business Plan
Investor Relations
Financial Analytics
Budgeting and forecasting.
Cash Flow Management
Board & Management Reporting
Accounting Team Search
Transaction Accounting
Gapeseed Consulting has also launched Financial Services Startup Packages to make it more suitable for the startup requisites.
Allied Services
One of our startup client who will be soon celebrating their first anniversary felt dramatically low at a point when they realized about the compliances and regular taxation norms. Apparently those were nor considered at the planning stage and hence they felt the pressure to perform as per law & guidelines.
Since we had helped them with the Registration process, they asked for our help and Gapeseed Consulting readily deputed our in-house chartered accountant Mr.Jain as the Interim CFO to manage the Liquor Import Compliances for Incorporating a Business in India while setting up a business.
Some of our basic allied services include the management of compliance, taxation and other procedures that include:
Tax Deducted at Source- TDS is to be deducted by company at the time of booking or making payment exceeding prescribed limits. TDS to be deposited every month before 7th day of next month. TDS return is to be filed quarterly before 15th of each quarter.
Service Tax- Presently Service tax rate is 14%. Service Tax is to be deposited before 6th day of every month by company and before 6th of every quarter in case of individuals. Return is to be filed half yearly.
Advance Tax- Advance tax is to be calculated every quarter and to be deposited by company before due date. It is payable before 15th June, 15th Sep, 15th Dec and 15th March.
Income Tax Return- Income Tax Return is to be filed annually after accounts are adopted by Board and Audited by Chartered Accountant" – we provide help to startup prepare complete accounts so that auditor can audit without any problem. We provide all information, details required for audit.
Transaction structuring/ Opinion – Our experts give opinion on transaction structuring on any matter of accounting, taxation, debt or equity.
MCA Filings- Returns to be filed with MCA for shifting of registered office, change in directors, increase in share capital, filing of Board and EGM/AGM Resolutions.
RBI matters for filing FCGPR, or any other matter.
Drafting Shareholders Agreement and Debenture Agreement for Private Limited Companies.
Drafting of contracts, patent and trad mark registration and other services
We hope that this post helped in understanding the launch procedure and also in ascertaining the best suitable option for your startup idea. Our next post will be around the documentation that is required to complete the registration process for a startup or new business.
In case of any query pertaining to startup series or services that we offer, please send in an email to info@gapeseedconsulting.com
More Newsletters
Limited Liability Partnership and its Incorporation
Activities to Be Performed after Incorporation Of Company
Private Limited Company and its Incorporation
One Person Company and its Incorporation