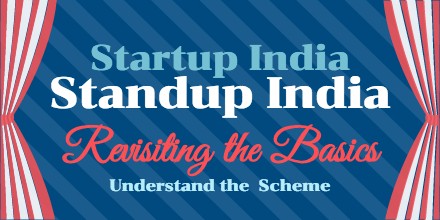 Now that you have been following our posts for so long, we would like to inform you about the
latest schemes regarding Start-Up India initiated by our government. This information might be of some use to you… On 5th April PM Modi officially launched one of the schemes in Noida. The official portal has been set up. Now it has become even easier for you to get detailed information regarding the Start up India plan. The portal was made live on April 1 2016. You can find all the information regarding the enrolment into the scheme which includes the online application forms, how to apply for loan etc. To simply know the working just navigate to the "Action plan" on the portal. For all latest notifications, you can navigate to "Notification" Section. A pdf file containing the list of incubators can be downloaded by interested applicants. For List of SEBI Registered funds, you can Visit HERE. If you have any queries regarding the "Start-up India Scheme" you can make use of the official Contact Us Page.
The whole world witnessed the launch of an ambitious programme in India on 16th January 2016.
The launch event took place in Vigyan Bhawan, New Delhi. Many of you still might not be clear about the goal, highlights and features of Start-up India programme but through this article you can find all the available information regarding the same. So if you have queries like – What is Start Up India Stand Up India Scheme ? Who can Apply ? How to Apply ? Application Form downloads etc, read the given information for the answers.
The economy of any country depends on its countrymen. Larger the number of employed or working
people, better be the economy. The Indian government has realized that Indians have great
potential when it comes to ideas; all they need is a promising opportunity or maybe a kickstart. Many people dream of starting up their own business, but due to financial or lack of opportunity they are unable to do so; hence Indian govt in the leadership of Mr. Narendra Modi has decided to offer a gift as a nation wise program- "Start Up India".
Mr. Narendra Modi in his speech acknowledged that Indians have ideas and capability, all the need is a little push.
"Start Up India" is a revolutionary scheme that has been started to help the people who wish to start their own business. These people have ideas and capability. The government decided to give them support to make sure they can implement their ideas and grow. Success of this scheme will eventually make India, a better economy and a strong nation.
Start Up India Scheme – From Job Seekers to Job Creators
Technology is evolving with a pace faster than ever. This has given birth to various new businesses like E-commerce, internet marketing etc. giving a great scope of development in such areas. Those who plan to start new business are eligible to apply. Gapeseed Consulting knows that setting up a business has its own constraints – forming a company, taking approvals, taking care of legal compliances and registration etc. It isn't a cakewalk for others but it is definitely easy for our clients. We will walk you through all the steps required for your Start-up.
During his speech at the event, Mr. Modi said that they are trying to make the youth Job Creators, rather than Job Seekers. He also said that one's mindset should not be towards earning money in the initial phase, it should be rather on grabbing and using the opportunities.
Start Up India Stand Up India Scheme – Action Plan in Detail and How Gapeseed Consulting can do it for you.
E- registration has to be done. The application forms for start-up India are made available in
April 2016.
A self-certification system has been launched.
A dedicated web portal and mobile app will be developed.
Arrangement of self-certificate based compliance.
No inspection during the first 3 years.
80 percent reduction in the application fee of start-up patent.
Easy exit policy.
Inclusion of Credit Guarantee Fund.
Relaxation in Income Tax for first three year.
Special Arrangement for Female applicants.
Introduction of Atal Innovation Mission: Innovation courses will be started for the students.
As per the sources, the online application forms will be launched this month in April 2016. Interested applicants need to provide the required details in the application form. We will help you review you application so as it doesn't get rejected.
For further queries and to know more about the Start-up India initiative, you can drop us a line here or feel free to send in an email to info@gapeseedconsulting.com
Gapeseed Consulting will be more than happy to help you setting up your own business.
More Newsletters
5 Steps for Setting up a Business in India
Gapeseed's Accounting Services for Small Businesses
PROCEDURES and DOCUMENTATION FOR STARTUPS