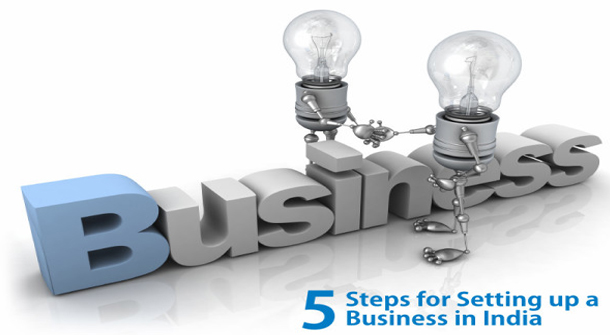 Startups and India are rhyming well together and 2016 seems to be bringing opportunities in abundance. That makes a perfect reason to bring last post of this year as the '5 Steps for Setting up a Business in India'
With Gapeseed Consulting, you can climb the steps smoothly when Setting Up Business in India!!
The current economic scenario of India is growing towards the trend of individuals getting ready to start up their own business enterprises. Opportunities are opening the doors and people are rushing to enter through those doors. Unlike hunting for a job, setting up a business requires a winning idea in the first place. But besides that a lot of groundwork has to come before the actual act of opening up a business. Now, such groundwork includes creating a workable business plan, thorough market research, finalizing funding sources and pinning down the business model. Once you have validated your idea with these steps, it is time to delve into the legalities and paperwork involved in setting up a business in India. And that's where we enter. We, at Gapeseed provide our clients Business Setup Solution based on a methodology which takes care of approvals, legal compliances, registrations with authorities etc. to provide a ready to operate business setup in shortest time period.
In this post, we will not only guide you with the steps of setting up a business in India processes but also with the tips of how smoothly you can walk past it.
Industrial Approval for Business Investment
Although in today's time setting up a business and investing in India generally do not require any approval. However, in case of some Industries approval is required for setting up business in India. Gapeseed provides services for obtaining approvals from Foreign Boards or Indian Boards (read Reserve Bank of India), as may be required. We also provide services for formulating strategies for mode of business setup i.e. Foreign Branch Setup or Liaison Office setup or Setup of Subsidiary Company as required.
See more at: http://www.gapeseedconsulting.com/blog/liquor-import-compliance-for-setting-up-a-business-in-india/
Incorporation of Your Enterprise
For setting up business in India through limited liability company involves registration with Registrar of Companies under the Companies Act. Foundation of company involves several steps including name approval, digital signature of directors, and preparation of Memorandum of Association etc. Our Business Setup Solution takes care of all the required compliances and procedures for incorporation of a company and endeavours to provide our clients ready to operate business setup as smoothly and as quickly as possible.
Get. Set. Register.
A business to be fully functional requires registration with various authorities. For instance, a trading company needs to get registered with Sales Tax/VAT Authorities, Income Tax Department, Excise Department, Custom Department, Service Tax Department, Registration with Shops and Establishment Act etc. Our Business Setup Solution provides services for registration with various authorities immediately after incorporation. This leads to reducing burden from client's end with matters related to tax, labour and other relevant authorities.
See more at: http://www.gapeseedconsulting.com/resources/
Brand yourself and advertise
What's the point in getting things right if people don't come to know about your company? Gone are the days when people used to spread the word verbally; Now-a-days one has to find the right kind of customer first and then think of many ways to reach out to them. In order to create an identity, create a logo, and then create a company website and social media profiles to mark your presence and through social media windows spread the word about your brand. You can not only promote your business through digital channels but can get hands-on feedback from your customers which will further help you improve.
Move ahead with your business
Once you start up, you should think of growing your business with each passing day. In order to make profit, you have to be ahead of what you received out of your business yesterday. And to do so you can think of collaborating with more established brands of your genera. You can even reach out to other companies and request them for your business promotion in exchange of a free service, product etc. You can even partner with other lines of business and build a mutual relationship to promote each other's brands.
Setting up a business can be challenging but if you follow these steps and reach out to us, you can not only set on the path of entrepreneurship smoothly but can make your business more profitable and more successful.
Further to this if you seek any further clarity, feel free to write to us on, info@gapeseedconsulting.com or you can also call us at +91-9599444639.
More Newsletter
Liquor Import Compliance for Setting up a Business in India
Setting up a business in India
Outsourced CFO Services for Startups for Winning edge
Importance of Accounting for Startups